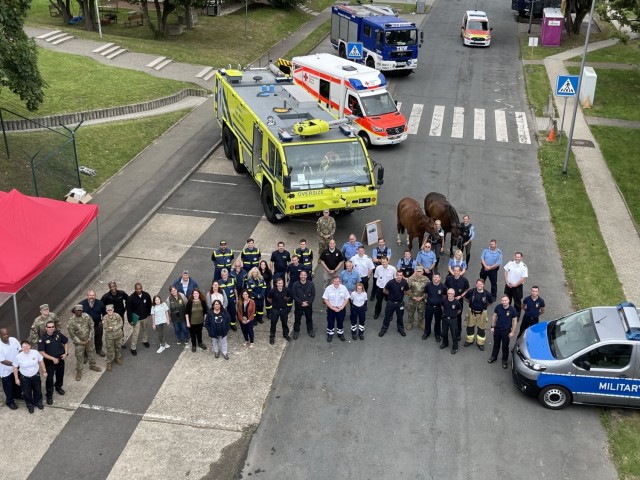 WIESBADEN, GERMANY – On November 23, the Department of the Army announced that the Emergency Services Directorate of the United States Army Garrison in Wiesbaden was among the recipients of the 2021 Army Community Partnership Award.
The program recognizes examples of exceptional cooperation and diligence that enhance preparedness, drive modernization, and encourage continued collaboration to reach the full potential of community partnerships. It also recognizes strong community partnerships that improve the quality of life for military members and their families.
USAG Wiesbaden and the German Host Country Police (Polizei) were chosen for their long-standing partnership. Wiesbaden's military community is made up of more than 15,000 people, operating at 14 different sites in two separate states. To ensure adequate protection on this large facility footprint, DES works alongside Polizei to provide effective resources and personnel in the event of an emergency.
"USAG Wiesbaden DES, Polizei Venue Wiesbaden and President Polizei West Hessen continue to build on the excellent relationships created by previous leaders. In addition, our fire and emergency service teams support each other during planned and emergency events, "said Lt. Col. Jon Jackson, Director of Emergency Services.
Jackson added, "We view the protection of our communities as a multi-layered security apparatus that begins with sharing information, conducting joint training, ensuring interoperability during execution and mutual respect. "
One aspect of DES and Polizei's successful partnership includes holding monthly meetings to discuss topics such as current threats, mitigation measures, residential area security, laser incidents, joint patrol efforts, training opportunities and ongoing surveys.
"The partnerships between USAG-Wiesbaden and German Polizei, fire and emergency services ensure the preparedness, resilience and safety of all our teammates and are essential to health, life and safety. of the entire USAG Wiesbaden community, "Jackson said.
In the past, one event made possible by the relationship between USAG Wiesbaden and its German partners was the anniversary of the Berlin Airlift. The two-day international event attracted over 50,000 visitors and was operationally supported by over 400 Polizei, Fire and EMS staff from the host country.
More recently, DES and its German partners organized the celebration of First Responders' Day this year. The event features an annual parade through the living area of ​​the facility and gives the community a hands-on and unique insight into what first responders experience in their work. It also offers local residents of Wiesbaden the chance to see how the garrison emergency service works side-by-side with their German counterparts, highlighting the activities of police and firefighters from both countries in a relaxed environment.
"Once again, we are delighted to recognize these exceptional partnerships that create efficiencies, strengthen resilience, enhance preparedness and improve the quality of life for soldiers and their families," said Lt. Gen. Jason Evans, Deputy Chief of Staff of the Army G9 (installations).
The Partnership Award has recognized seven facilities and their community partners this year, and a ceremony will take place virtually in January 2022.