Wed, 03/23/2022 – 09:45 | By: Ivonne Kawas
Pictured from left to right: MAJ Eric Whetstone, BG Stanley Budraitis, Dean Chris Winstead, LTC Walker Nordan, MSG Edwin Williams.
Brigadier General Stanley Budraitis, a native of Petal, Mississippi and Deputy Commanding General of the U.S. Army Aviation Center of Excellence and Aviation School at Fort Rucker, Alabama, was greeted by the U.S. Army Reserve officer from the University of Southern Mississippi (USM) Training Corps (ROTC) – Golden Eagle Battalion – earlier this month at the Hattiesburg campus.
A Mississippi National Guardsman and Army Airman with more than 25 years of service and more than 2,000 flight hours, BG Budraitis leads the charge of leader development for the United States Army.
BG Budraitis spoke to USM Army ROTC cadets during the courses and leadership lab. He was able to tell his Army story, including all that the Army has given back to him and his family over the years, and the key tenants of leaders who make them and their teams successful.
"As USM Army ROTC develops the leaders of tomorrow, it is critical for us to expose our cadets to successful leaders who uphold Army values ​​and display key tenants they can strive to imitate," said LTC E. Walker Nordan Jr., director of the Department of Military and Leadership Science and ROTC. "BG Budraitis shared life lessons that will help prepare our cadets for military success."
BG Budraitis also had the opportunity to meet with Dr. Chris Winstead, Dean of the College of Arts and Sciences, to discuss supporting the Army's ROTC, as well as increasing mission accomplishments. In addition, he toured the new Center for Military Veterans, Service Members and Families, where he met with MG(R) Jeff Hammond to discuss veteran outreach, services offered at the new center and the people of Southern Miss veterans.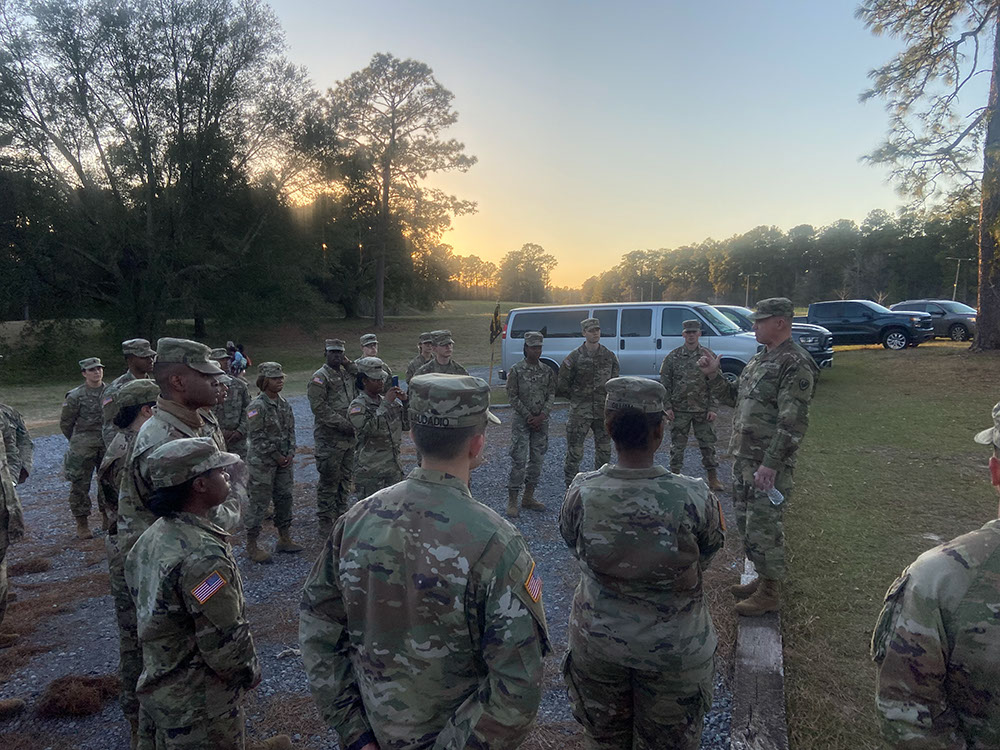 "We were honored to have General Budraitis visit campus and share his expertise and experience with our students. Our ROTC units are a vibrant and vital part of our Southern Miss community. Having an officer of General Budraitis' stature investing his time with our Army ROTC cadets was greatly appreciated," said Dr. Winstead.
Most importantly, BG Budraitis spread his pride in being part of a service organization, as he said in closing during his address to the cadets, "there is no greater feeling than to be an American soldier".
Some of BG Budraitis' previous assignments include: Senior National Guard Advisor to Aviation and Missile Command at Redstone Arsenal, Ala., and previously served as Commanding Officer of the 1108th Theater Aviation Sustainment Maintenance Group.
BG Budraitis holds a bachelor's degree in business administration from William Carey University and a master's degree in strategic studies from the United States Army War College. He is a graduate of the Basic Aviation Officer Course, Advanced Aviation Officer Course, United States Army Combined Arms Service Staff School, United States Army Command and General Staff Officer Course, and United States Army War College.
Learn more about Southern Miss Army's ROTC and scholarship opportunities.