KAISERSLAUTERN, Germany — The largest army garrison in Europe has a new commander overseeing its 33 sites in its diverse area of ​​responsibility.
Col. Reid E. Furman assumed command of U.S. Army Garrison Rheinland-Pfalz in a ceremony at Pulaski Sports Field, Germany on July 22. He supports an organization with a scope of operations that encompasses facilities and training areas in Germany, Bulgaria and Romania.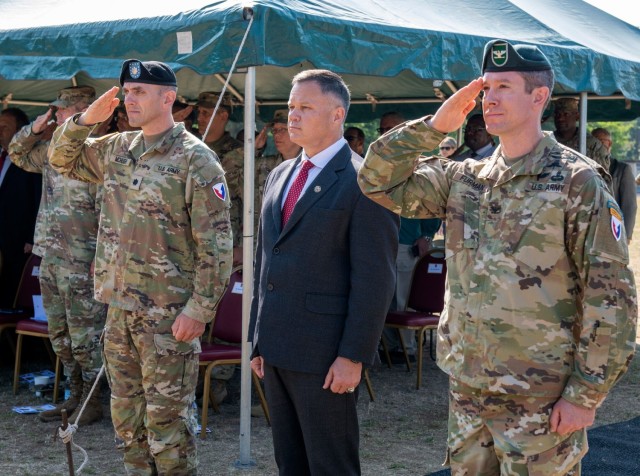 Furman assumed command of the garrison from acting garrison commander Lt. Col. Jeremy A. McHugh. He accepted the garrison colors from Tommy R. Mize, director of Installation Management Command-Europe and host of the change of command ceremony.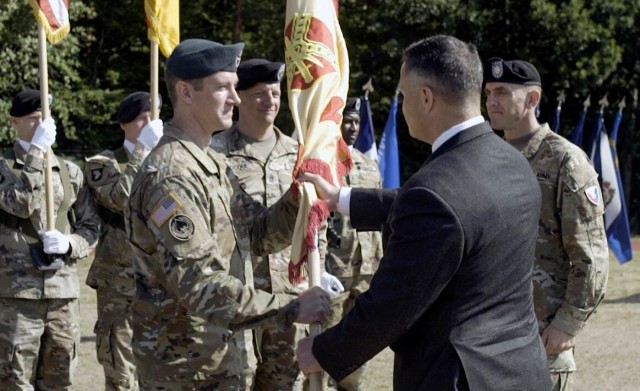 Before handing over the colors of command to Furman, Mize praised McHugh's leadership to the garrison.
"We all owe a special debt of gratitude to Lt. Col. Jeremy McHugh for his outstanding and selfless service and leadership over the past two years while serving for the ASA-Black Sea Commander in Charge of Installations military in Romania and Bulgaria, but especially so during the past eight months while concurrently serving as acting commander of USAG Rheinland-Pfalz," Mize said.
McHugh, in turn, praised Mize for being an "incredible leader" who he loved working with and for. "Thank you for your trust, confidence and mentorship," he added.
In addition to praising the garrison, McHugh also acknowledged the continued support of host nation partners.
"Together we are not Germans and Americans, but the military community of Rheinland-Pfalz. Thank you for your care for the well-being of our soldiers, civilians, family members and for your partnership in everything what we do," McHugh said.
Before signing on as commander one last time, McHugh wished Furman well in his new role.
"You are joining a great team. From what I've seen so far, you'll take the team to the next level and they'll benefit from your leadership," McHugh said.
A native of Sunbury, Pennsylvania, Furman graduated from the U.S. Military Academy at West Point, New York, where he was commissioned an armored officer in May 2000. He draws on experience from various senior and leadership positions to include the operations assistant. , 1st Special Forces Command (Airborne), Senior Officer Commanding General, NATO Special Operations Component Command Afghanistan/Joint Special Operations Task Force – Afghanistan, and Support Battalion Commander, 1st Special Warfare Training Group , US John F. Kennedy Special Warfare Center and School at Fort Bragg, North Carolina.
After earning a master's degree from the University of Kansas and a bachelor of science degree from West Point, Furman's military education includes the Army War College, Command and General Staff School, Qualification Course Special Forces, the Combined Arms Staff Service School, the Armor Captains Career Course and the Basic Armor Officer Course.
"The success of our mission here hinges on the relationships we build with our host nation partners," Furman said in his acceptance speech. "I'm honored to see so many of our community leaders and German military here today."
"We are truly thrilled to be here and grateful to have the opportunity to lead this garrison. Together you have built this team, and I am honored to join you," he added.