VICENZA, Italy — Adaptability and resilience are qualities found in military children, who often move from state to state or even internationally.
For 14-year-old Sam Kloepper, participating in the Boy Scouts has made military family life easier. It also helped him find something he was passionate about. For his Eagle Scout project, he thought about what it was like to move to the US Army garrison in Italy.
"I moved here twice and lived at the Ederle hostel," Kloepper said, referring to the army family quarters on Caserma Ederle. "They have movie rentals but nothing for books. So, I thought I might put something here for the books.
Kloepper, whose father commands the 173rd Airborne Brigade in Caserma Del Din, aspired to earn his Eagle Scout, the highest rank in scouts that symbolizes dedication to his community, Kloepper said.
Kloepper's idea of ​​a "little free library" came to fruition with the help of garrison officials, who allowed him to build the structure not far from the accommodation area, right next to the central processing facility – where all newcomers enter the community. It took months of planning, with approvals and permits to dig.
"The presence of this library is indicative of the vibrant community spirit that exists throughout U.S. Army Garrison Italy," said Col. Matthew J. Gomlak, who commands the garrison and approved the project. "While many think this is the place that makes a mission in Italy so special – those of us who live and work here know it's the people who make the difference."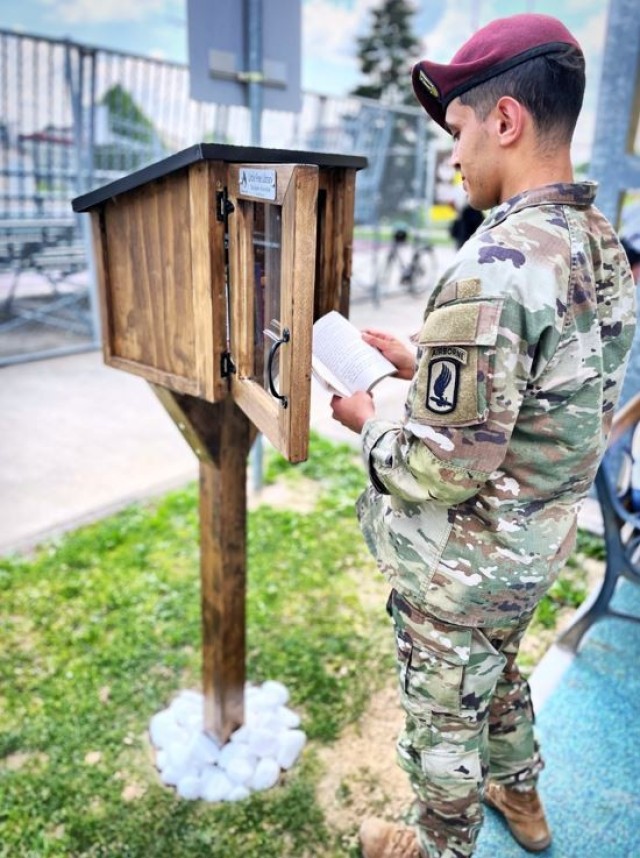 Kloepper hopes the library will bring positivity to military kids moving to and from Vicenza.
"I put it near the central processing facility, so if you come here and there are other people here, you can meet new people," Kloepper said. "So it's really more than the books."
This is how it works. Children can take a book, but they must also put a book in its place. This ensures that the library is always full for others. Books placed in the library do not need to be brand new. In fact, gentle use is best.
Friends of his troop helped with the construction. Scouts in Troop 295 realize the importance of community service, said Lt. Col. Timothy Adair, who serves as scout leader.
"Any project that can help improve the quality of life for those entering or leaving the military community in Vicenza is a huge help," Adair said. "We are very grateful to Sam and all the volunteers who helped out."