CAMP HUMPHREYS, South Korea — A South Korean pop star doing his mandatory military service is among the Eighth Army's top warriors after a six-day trial that tested competitors' physical and mental limits.
Pfc. Kang Young Hyun, 28, a South Korean soldier serving as a human resources specialist for the headquarters and headquarters battalion of the Eighth Army, won the command's best warrior competition in May 8-13. the Korean U.S. Army Augmentation, or KATUSA.
Kang is a member of DAY6, a pop rock group represented by JYP Entertainment, a South Korean record label that debuted with K-pop groups like Wonder Girls.
Other competition categories include Best Soldier, NCO, Officer, and Warrant Officer. US soldiers who were crowned best warrior and best team will qualify for the US Army Pacific's three-day competition starting July 19.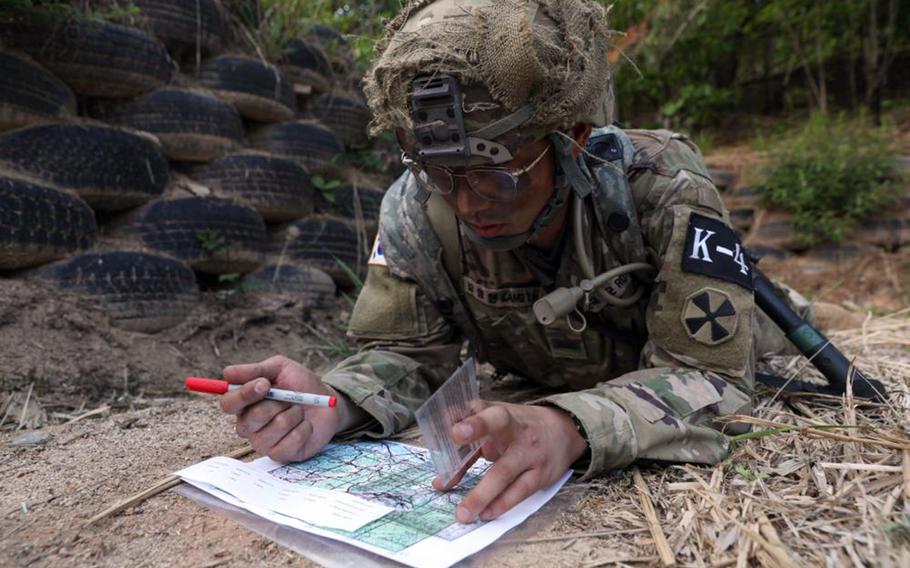 Forty-nine U.S. soldiers and KATUSA competed for Best Warrior and Best Squad by going through events like water survival test, small arms qualification, eight mile march, land navigation and obstacle courses, knot assessments and military knowledge tests.
Kang said he was encouraged to compete by a non-commissioned officer in April.
"I made the decision that night," he told Stars and Stripes on Wednesday. "Because my only goal in the military was to have a healthier body, just to build a better one, because I feel like I didn't take care of [it] before."
Kang grew up in South Korea but studied in Canada for four years. While living in Toronto and Vancouver, British Columbia, he perfected his English by studying and practicing the music of artists like Maroon 5 and Coldplay.
Kang's group DAY6 spent 15 weeks on Billboard's K-Pop 100 in 2020, with songs like "Zombie" and "You Were Beautiful."
As a South Korean man, Kang was expected to serve in his country's military before the age of 29. He returned to South Korea and applied to become a KATUSA soldier through a highly selective process.
"I knew I had to join the military one day," Kang said. "I knew I was going to stay here in Korea, and I knew I was going to serve."
Applicants to KATUSA must achieve a certain score in several internationally recognized English proficiency and expression tests, have no criminal record and pass a physical fitness test.
"I realized that being a KATUSA is something very special," Kang said.
Prior to his military service, Kang said he focused on his music career and the albums he planned to release. He learned during his military training the value of introspective thinking and occasionally "looking inward" and "taking care of myself."
Kang said the cardio events were the toughest in the Best Warrior competition.
"I was not a good runner compared to the others," he said with a smile. "Fortunately, because I was physically very, very tired, I fell asleep right away."
Despite struggling in some events, Kang said he endured after "seeing the other contestants… all very dedicated and competing against each other."
"I think what I took away the most was the experience itself," he said. "I feel like I'll never have that experience in my life anywhere else."
Kang said he knew he was "not going to be the fastest" among the competitors, but noted that his "goal was to clear every hurdle".
"There were some hiccups," he said. "There were times when I almost fell, but being able to overcome my limitations…gave me more self-confidence – believing in myself – and thinking that I can do other things too."
An Eighth Army spokesperson said Kang received no preferential treatment during the competition.
"We deal with Pfc. Kang just like we treat all of our soldiers," Lt. Col. Neil Penttila told Stars and Stripes. "He won this competition purely because of his hard work and effort."