SEMBACH, Germany – The G5 Section of the U.S. Army NATO Brigade held a week-long training for soldiers in the U.S. Military Personnel Exchange Program from October 31 through November 4.
The Military Personnel Exchange Program is a security cooperation program involving the reciprocal exchange of personnel between the United States military and a similar unit in a foreign military service.
The US Army's NATO Brigade is providing support to 55 MPEP soldiers at 44 locations in Belgium, France, Germany, Italy, the Netherlands, Poland and the UK.
The purpose of the week-long training was to help soldiers posted to these remote locations across Europe with mandatory readiness requirements.
"In April 2021, the U.S. Army's NATO Brigade began providing administrative support to the military personnel exchange program and to schools in other nations," said Major Rebecca Cheman, of the G5 Brigade in the United States. US Army NATO. "A year and a half later, we invited the MPEP soldiers to Sembach, Germany for readiness training and other administrative duties required by the Department of the Army."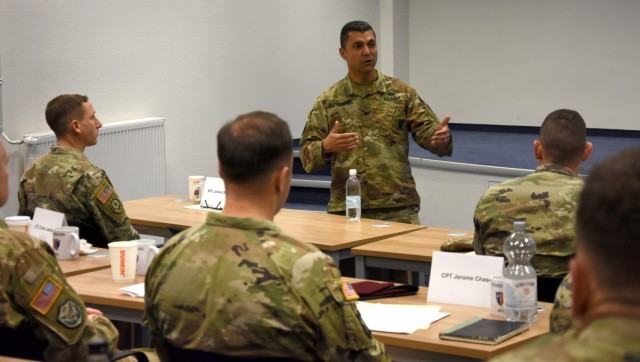 Capt. Joshua Hagler, a plans and simulation support officer assigned to the German Army Combat Training Center in Letzlingen, Germany, said he appreciated the opportunity to receive the training and meet his counterparts from other places.
"The training was very focused and very helpful," Hagler said. "The courses have been condensed and useful for the people who have been part of them, and it will really help me in particular with many of the facets that are particular to an individual who is assigned to an area where there is no other American soldiers.
"In my case, the closest American is 100 kilometers away, and that's another individual. The closest [American] post for me is 300 kilometres, 200 miles," he said. "Getting help or help in my area is not very easy, so many of these courses have basic information to use some of these systems to their best potential."
Cheman added that this training was the first opportunity for MPEPs to interact with each other and exchange best practices.
Hagler said he looked forward to working with Cheman and his team at the G5 to improve the program for future MPEPs.
"For my successors and others assigned to exchange programs across Europe, I hope we will have a welcome letter, a website and contact information, maybe even a Facebook group to which they can join and who will give them up-to-date information, contacts, easy access to former MPEPs and other incoming MPEPs so that soldiers, spouses and children can work together to make the mission more positive from the start" , Hagler said.
For more information, visit the US Army NATO Brigade.