By Jane Keller Gordon, Associate Editor
Southborough – As a young man in 1948, Pete DePina volunteered to serve in the United States Army. The Southborough resident, looking back on his years of service, noted his surprise that discrimination was widespread in the military.
"To grow [in Falmouth, Mass.]my schools weren't segregated, but the army was and I hated it," he said.
After DePina's military service, which included basic training at Fort Riley, Kansas, and tours of Germany and Korea, he returned home to Massachusetts to put down roots. He worked first in construction and then for the car transport division of General Motors in Framingham. He and his late wife, Elizabeth, moved to Southborough where they lived for 50 years, raising a son, Richard, and a daughter, Susan.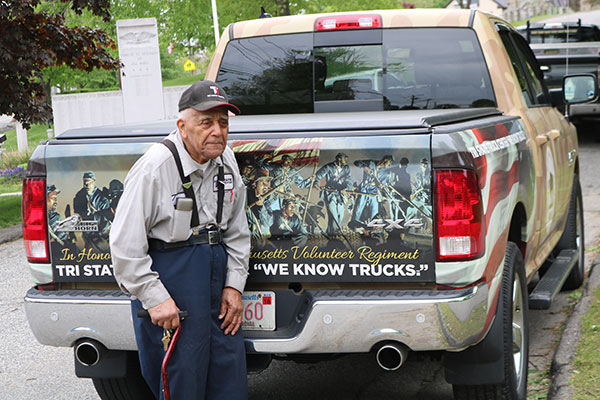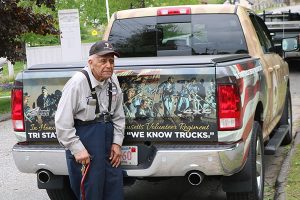 Now, at 86, DePina is dedicated to ensuring that the military sacrifices and contributions of African Americans are not forgotten. As such, he became an avid student and advocate who shares the stories of two legendary regiments in particular, the Tuskegee Airmen and the Buffalo Soldiers.
The Tuskegee Airmen were the first black military airmen in the US Army Air Corps (AAC), a precursor to the US Air Force. Trained at Tuskegee Army Airfield in Alabama, they flew more than 15,000 individual sorties in Europe and North Africa during World War II.
From the mid-to-late 1860s to the late 1890s, the Buffalo Soldiers were the nickname given to a group of prominent African-American soldiers who served primarily on the western frontier after the American Civil War. These men were tasked with controlling the Plains Native Americans, capturing cattle rustlers and thieves, and protecting settlers, stagecoaches, wagons, and railroad crews.
The regiments have written their own history
"Both times, in World War II and in the 1860s, the Army wouldn't accept African-American soldiers," DePina said. "It took a long time for these bands to form, and eventually they proved themselves."
Although proof of their military prowess has been delayed, it has emerged over the years.
In 2016, DePina attended a New England Tuskegee Airmen celebration held at the University of Mass. in Boston. One of the pilots who was honored, Charles McGee, was a prime example.
DePina pointed out that McGee's contributions were legendary but not fully recognized at the time.
"He had more combat flight time than any other living or retired soldier. McGee retired as a full corporal, but should have had a higher rank," DePina said.
Likewise, the Buffalo Soldiers gained a reputation as capable military personnel.
"They have a reputation for never giving up the fight," DePina said.
"At first, [the Buffalo Soldiers] were insulted by the name, but that changed over time. They found it meant 'pride and bravery,' which DePina thought was clearly an appropriate nickname.
Since he started collecting memorabilia, DePina has amassed thousands of items such as books, documents and uniforms, some of which he has worn at historical reenactments.
About 15 years ago, DePina had the opportunity to return to Fort Riley to witness the unveiling of a Buffalo Soldiers statue.
"I never wanted to go back there after the segregation I experienced, but my wife told me 'Go back.' I'm glad I did. It was a really good experience," he said. -he declares.
Man in perpetual motion
Since his official "retirement", DePina hasn't really slowed down, as he works almost full-time at the Tri State Truck Center in Shrewsbury.
"Every morning I go there and cause everyone heartache," he said with a characteristic chuckle. "I spend about 30 hours a week there doing chores. I have a work ethic that drives people crazy. I don't like being late. It comes from the army.
Kevin Holmes, president and CEO of Tri State, disagrees with DePina's assessment and actually considers him inspirational.
"Pete is one of the friendliest, kindest, most wonderful men I've ever known. He's been a mentor to many here," Holmes said.
"We call him the executive vice president of client affairs," he added. "He's such a goodwill ambassador and a jack-of-all-trades. He will do whatever is necessary for anyone, customers or employees.
"The work keeps him young, but we are very grateful for all his help. He really makes a difference.
In fact, to recognize his contributions, three years ago the company gave DePina a special Christmas present: a Dodge Ram pickup truck. Not content to ride it as mere transportation, DePina instead uses it as a way to honor military service for African Americans. The truck is adorned with artistic renditions depicting DePina's missions, including one based on the 54th Massachusetts Volunteer Infantry Regiment, one of the first official African-American units to serve in the United States Armed Forces during the Civil War.
A brief conversation with DePina will quickly reveal that he is a man of passion and strong emotion. Her connection to history moves her deeply, often bringing a brief tear to her eye.
In her efforts to further the goal of equality, DePina does not fight racial injustice through protest, but rather through education. Instead, he chooses to celebrate the accomplishments of those who paved the way for all soldiers of color and let history be their legacy.
And like the Buffalo Soldiers he honors… Pete DePina will never give up the fight.